The charming city of Bath in the UK, is a popular destination for weekend spa breaks, romantic getaways or an opportunity to treat yourself with a spa package, a boutique hotel and a huge selection of high-quality restaurants and bars.
Thanks to the historic location of Bath, the Bath spring below the city produces natural thermal waters, perfect for a spa break or a wellness weekend in Bath. Although you can't swim in the Roman Baths anymore, you can experience the thermal waters at Bath Thermae Spa.
So if you're planning a getaway to Bath, you're probably wondering where to stay in Bath?
Thankfully there are dozens of luxury, boutique hotels in Bath, as well as unique hotels in Bath or boutique hotels near Bath if you'd prefer to stay further out of the city.
I'm sharing my favourite boutique hotel in Bath, plus some alternatives you might want to consider.
Disclosure: This post may contain affiliate links, which means I may receive a commission if you click a link and purchase something. While clicking these links won't cost you anything, they will help me to keep this site up and running! Check out the full disclosure policy for more details. Thank you so much!
Bath Boutique Hotels: Top 5 Recommendations
The Roseate Villa Bath
I stayed at the Roseate Villa, one of the small boutique hotels in Bath which is located just a 5 minute walk from the famous Pulteney Bridge and Bath city.
The Roseate Villa Bath manages to combine being one of the most trendy hotels Bath has to offer with their chic bar and colourful rooms, but being situated in two converted Victorian Houses on a residential street, it also feels very homey and welcoming too
The location was one of my favourite things about the Roseate Villa because I'm really not a city person. I loved that although it was just a 5-minute walk from the city centre, I felt like I'd escaped the hustle and bustle, being on a quiet residential street with a large park area right opposite - this also meant it was so nice and quiet to sleep at night!
Speaking of the homey and welcoming feeling, I was offered tea and homemade cake on arrival and there were special touches like bunches of daffodils in my room.
Because this is a smaller boutique hotel, it really feels like the staff actually know you and remember you.
Anyway the rooms were my favourite part because they are SO COLOURFUL.
Each room is unique with its own colour scheme (mine was pink and yellow - which sounds bizarre but check out the pictures - it totally works!)
The room had so much space and storage, I could easily have stayed longer than one night! The bed was comfy and there was plenty of natural light. I also loved the more traditional dark wood furniture in the room and that there was a fridge!
The bathroom was small but modern, perfect for a short stay.
The hotel itself also offers an afternoon tea experience which you can purchase in addition to your stay - it was so beautiful and they cater for dietary requirements really well too.
Pros:
Great location

Attention to detail

Beautiful decor

Great food options

Free parking on site

Quiet location

Spacious rooms and great amenities

Dog-friendly hotel
Cons:
Some people may prefer to stay in the city centre

Small hotel means it gets booked up quickly
If you prefer to stay centrally for your city break, there are plenty of great boutique hotels Bath centre can offer.
Abbey Hotel would be my top choice, with the characteristic Bath stone facade, you'll be staying just steps away from many of the famous sights in Bath, including the Roman Baths, Bath Abbey, Sally Lunn's famous buns and Parade Gardens.
The chic, contemporary decor is very popular with a lot of modern tastes for boutique hotels and the hotel itself also offers the option to include afternoon tea and dinner in your package.
This would be my top choice for boutique hotels in Bath city centre.
Whether the Abbey Hotel isn't to your taste, or if it's fully booked, another great option to check out in Eight.
I immediately loved their frontage, it looks like the quintessentially cute cobbled street facade or something straight out of Diagon Alley in Harry Potter!
Eight is basically how I would want my own home to be decorated, modern but without everything being black or white.
I love the wooden floors, green subway tiles in their bathrooms and their dusty blue coloured dining area.
But the real bonus here is that you're literally 50 yards from the Roman Baths!
You really can't beat the location of Eight if you're looking for cool hotels in Bath in a great location.
If you're looking for luxury boutique hotels near Bath but you'd rather avoid the hustle and bustle of the city centre, Macdonald Bath Spa Hotel is for you.
Set in 7 acres of beautiful gardens with fountains, ponds and garden terraces, there's also an outdoor hot tub and an indoor pool, fitness centre and spa at this 5-star hotel.
Elegant is the perfect word for every room, with four-poster beds, roll top baths, some of the best boutique hotel bathrooms I've ever seen and the restaurant is housed in what was once a ballroom.
If you're looking to treat yourself or your partner, this is the hotel!
The Bathen House Boutique Hotel
If you're looking for something similar and not too far from the centre, Bathen House is just 1.5 miles from the centre of Bath and it is STUNNING.
This is for sure the place I'm staying next time I'm in Bath and I'm just mad I didn't discover it before!
These stunning, elegant rooms are all in white and soft pinks with white marble bathrooms, marble fireplaces and roll top baths.
The words for this hotel are modern and decadent.
There's free parking on site and all bookings include breakfast.
If you're looking for the most instagrammable hotel in Bath, this is probably it!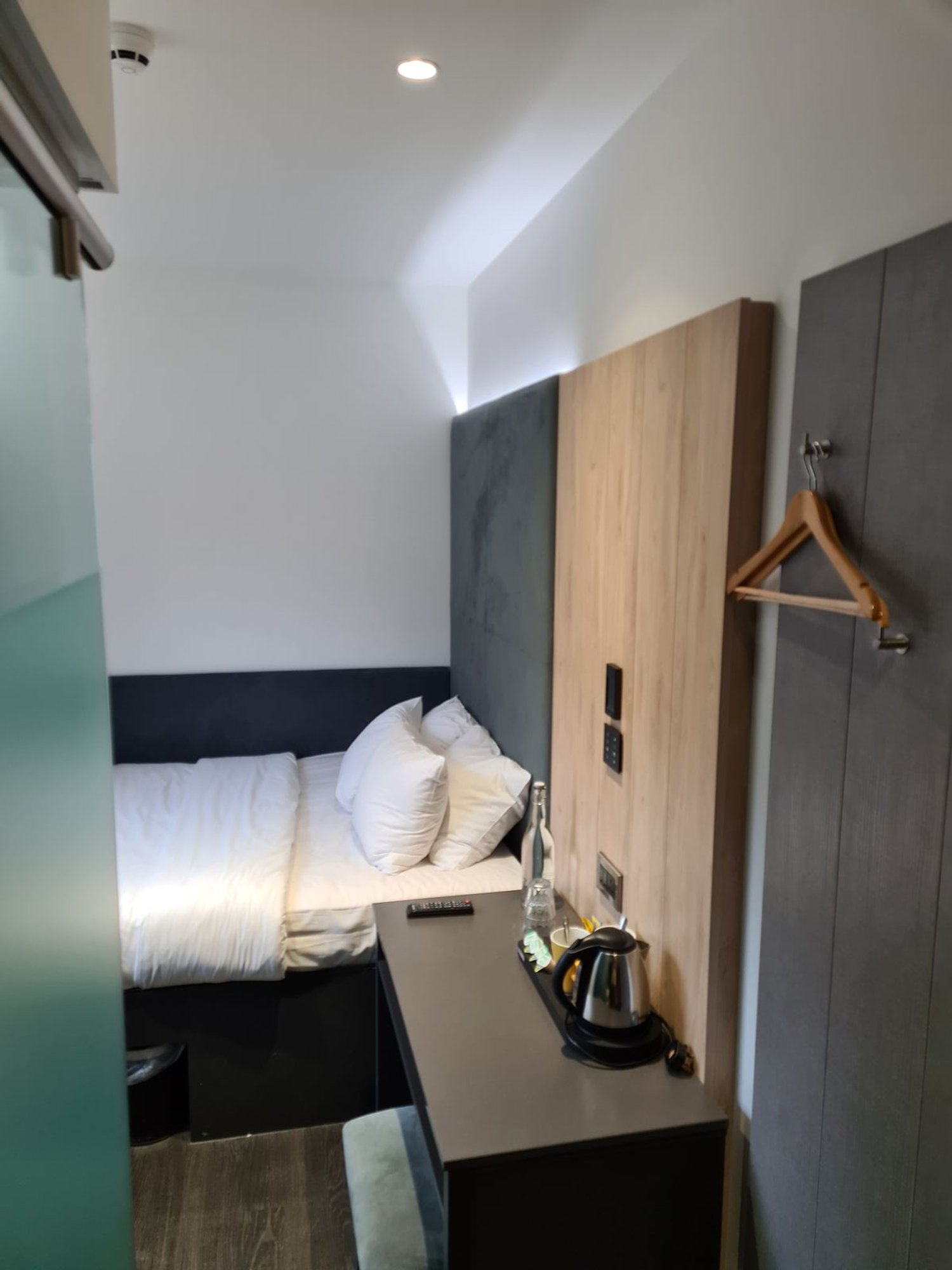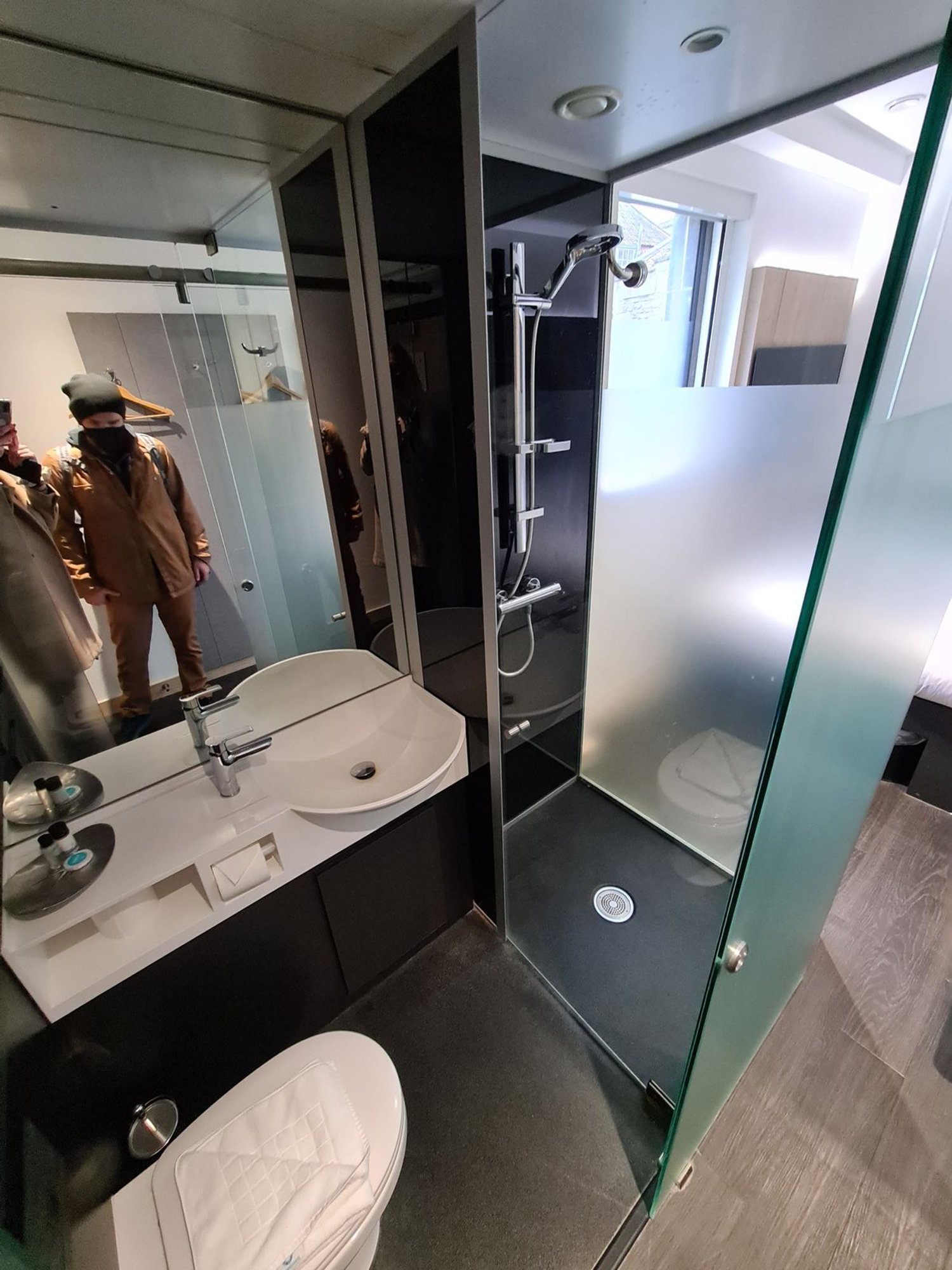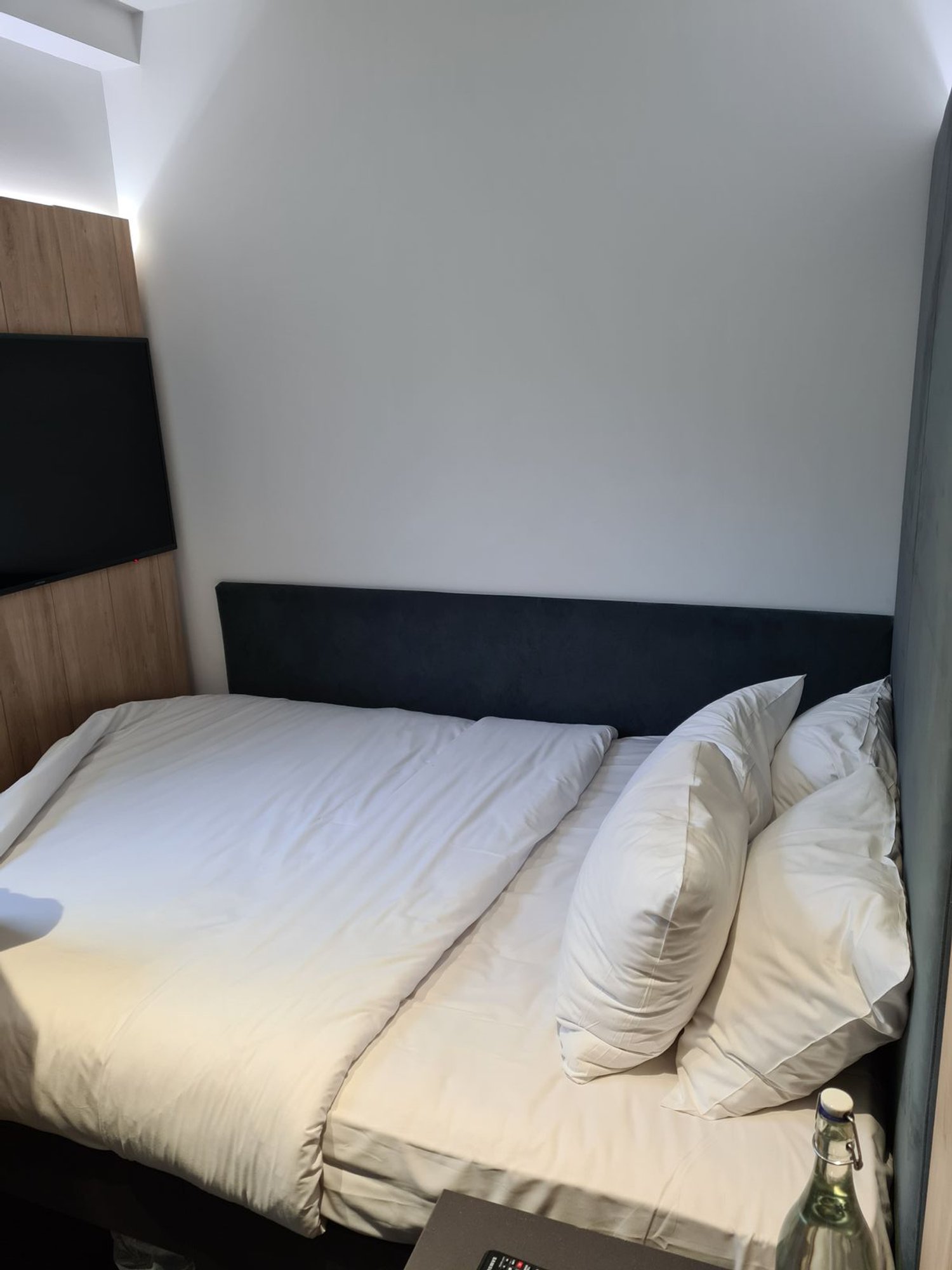 If these boutique hotel options are a bit out of your price range, I've also got a great alternative option for you - this is one I've also stayed at.
From as little as £40 a night, the Z Hotel is one of the most hip hotels Bath has to offer and the quirky capsule-style rooms definitely make it one of the more unique hotels in Bath too!
Perhaps that's just me but I LOVED the capsule style rooms in Japan and while the rooms at Z Hotel aren't that small, it does manage to be minimally chic!
Rooms come with a double bed, bathroom pod, tv, tea and coffee facilities and some of them come with a window. 
It can be a bit of a tight squeeze so if you're looking for spacious rooms, this isn't the one for you!
But if you're just looking for a bed for the night on a shoestring getaway to Bath then this might be the best option for you.
The location could not be more perfect, being located right opposite the Theatre and 2 minutes walk from the Roman Baths and Cathedral.
Summary: The best boutique hotels Bath, UK
Hopefully this has given you some inspiration for where to stay in Bath and some ideas for the best boutique accommodation options in and around the city.
Bath isn't the cheapest city in the UK by far, but it is the perfect city for a special getaway, for a treat or for a special occasion.
Pin this to save it for later and help you plan your future trip!